London road marking for car parks & businesses
Car Parks – Line Removal – Industrial Estates – Roadworks – Garages and Warehouse floor painting & Shop Fronts
Resurfacing – Playgrounds & Schools – Leisure Centres & Gyms
---
Lineways provide a professional service for your roadway maintenance, resurfacing and roadmarking needs. We can provide a wide range of services to suit your needs – click on the images above for previous examples of our work, or click here for a list of what we can provide.
Road marking services No job too big or too small!
Lineways Roadmarkings provide a professional road marking service. With over 15 years of combined experience, our team are professional, capable, fast and affordable – ready for sign marking for industry
"Lineways provided a professional, effective, affordable service for my car park marking project. I couldn't be happier with the work that John and the team undertook. Thank you!"
BIG MOTOR WORLD, NEW MALDEN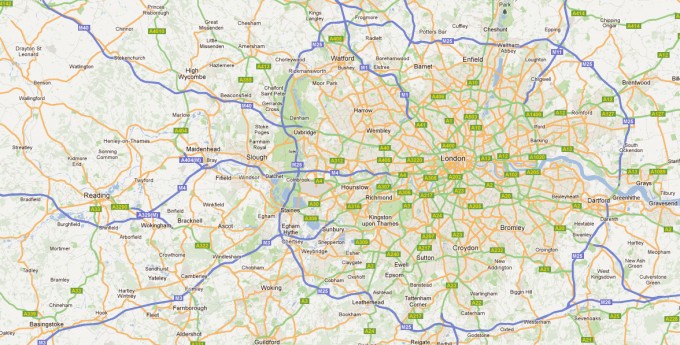 Consider Lineways for your roadmarking job in:
(Area not listed? We work throughout South-East England – call 0781 889 2671 for a free estimate for your area.)
Markings for schools, highways, offices, companies and council areas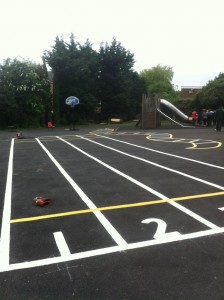 With nine full-time staff and three vehicles fully equipped for a range of roadmarking services, the team are ready to travel to complete your road marking project. We also provide creative solutions for your marking needs – such as our recent client in Elmsbury (right) who needed markings completed for her school. No job is too large, or too small – consider us for your next marking job for:
Zebra crossings and traffic systems
Council areas (parking and zoning)
Parking bays
Schools and playgrounds
Gyms and courts
Company stores
Factories and industrial estates
Line cleaning and removal
"We have hired Lineways for several projects on behalf of the local council: driving bays, offices, roads, zebra crossings and more. Every time, the company has completed the job quickly and effectively – I'd happily hire them again."
SALTHASH COUNCIL, MERTON
 Parking bays, logo painting, zebra crossings, warehouse flooring – if you need
A reliable service, fully covered.
We offer full public liability insurance on any job we undertake, and all work is fully guaranteed & insured; our certificates are available for inspection on request.
Contact us
Contact us today by email or call 07818 892 671 for more details!